Middleware Console Ports for Microsoft, Nintendo, and Sony Platforms, Powered by Godot 4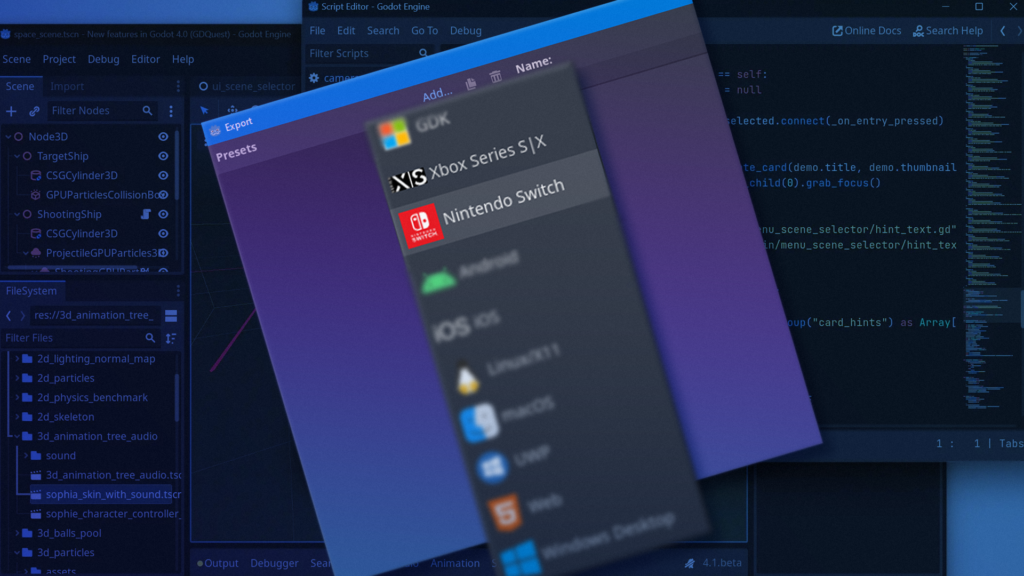 W4 Games is excited to announce the successful launch of the W4 Consoles Early Access Program. This practical and developer-focused solution aims to provide fully middleware-approved console ports for Microsoft, Nintendo, and Sony platforms, making Godot a trusted option in line with leading commercial game engines.
Streamlining Console Porting Services
W4 Games' W4 Consoles is designed to offer full-featured platform ports with support for all major APIs both of Godot and of the target consoles, differentiating it from traditional porting services. Our solution ensures that Godot 4 titles can pass the console manufacturer's requirements, meeting stringent quality standards and providing support for a comprehensive feature set.
Simplicity and Accessibility
Our primary goal is to make console porting as simple and accessible as possible for game developers. W4 Consoles brings the same ease of use that developers love about Godot to the console porting experience. This empowers most developers to independently handle their game ports, reducing their reliance on third-party services.
Early Access Success: Xbox™ and Nintendo Switch™
During our Early Access Program, W4 Games is delighted to witness the overwhelming success of the W4 Consoles product. The ports for Microsoft's Xbox Series X|S and Nintendo Switch have surpassed our expectations. Customers appreciate its impressive quality and user-friendly features, setting the stage for a remarkable final product. The current state of the product is similar to the platforms already available in Godot, including one-click deploy and on-device debugging (including remote scene tree, scripting breakpoints, etc.). Sony's PlayStation 5 support will be coming later this year.
Experience W4 Games at Gamescom 2023
W4 Games is proud to be part of Gamescom 2023, co-sponsoring the Godot booth alongside Ramatak. We invite all attendees to visit us during the business expo on 23rd-25th August at Hall 2.2, booth C-042. Discover W4 Consoles, W4 Cloud, and other products and services for the Godot community.
About W4 Games
W4 Games is a dedicated gaming technology company that strives to provide innovative solutions for game developers worldwide. Our mission is to empower developers with user-friendly tools, fostering creativity and efficient game development. W4 Games is committed to making a positive impact in the gaming industry.
For media inquiries and more information, please contact pr@w4games.com
Follow us on social media:
Twitter: @W4Games
LinkedIn: W4 Games
Xbox is a trademark the Microsoft group of companies.
Nintendo Switch is a trademark of Nintendo.